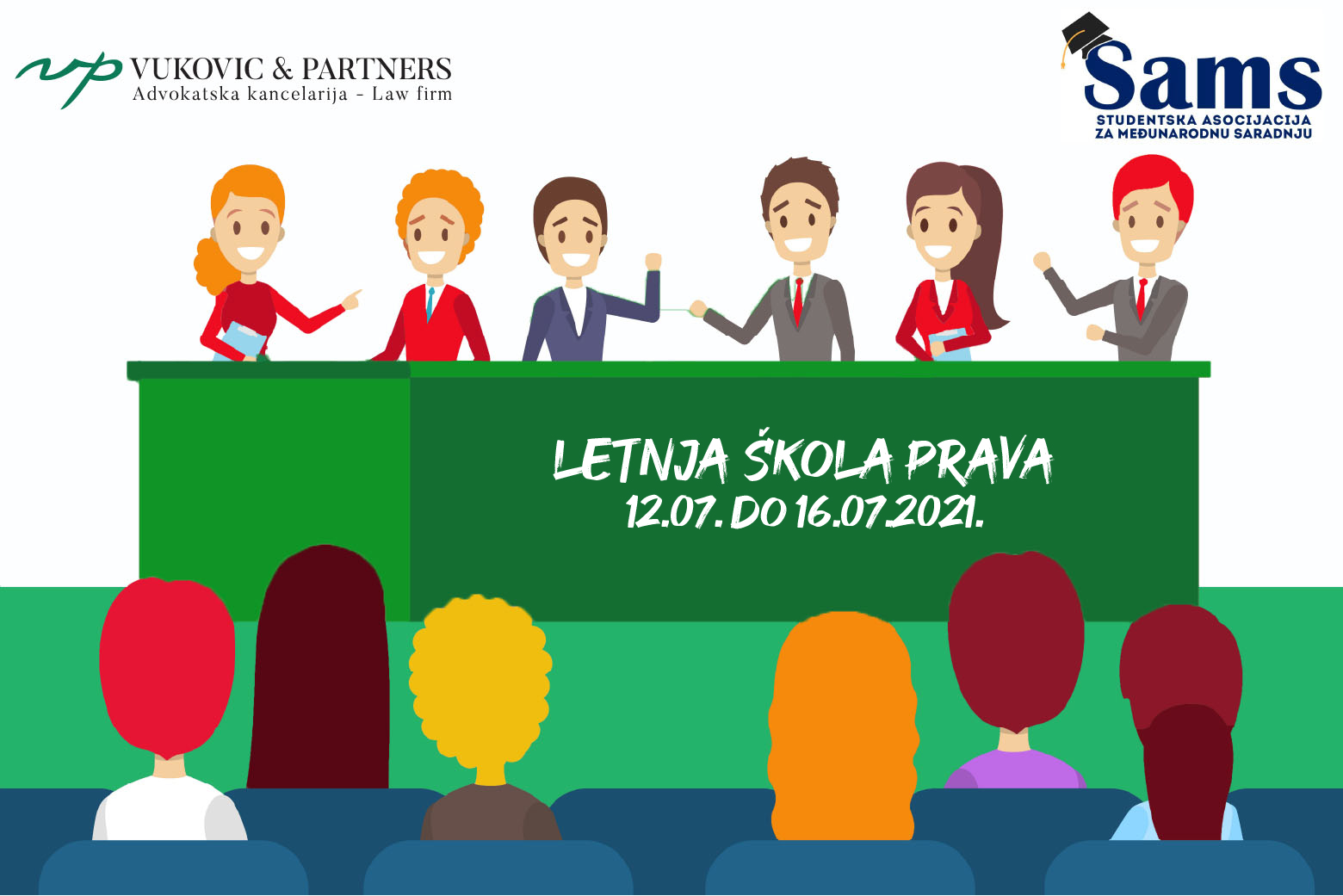 Summer School of Law
Summer School of Law
Vukovic and Partners Law Firm and the Students' Association for International Co-operation organizuju Letnju školu privrednog prava.
Letnja škola je namenjena studentima završne i treće godine Pravnog fakulteta sa ciljem da dobiju što više praktičnih znanja iz različitih oblasti privrednog prava. Rad je koncipiran na radionicama i praktičnim vežbama kojima prethode kraći teorijski uvodi.
Capacity is limited and rok za prijavu je 30.06.2021.godine.

What do you get by attending the Summer School?
– Teorijska i praktična znanja iz raznih oblasti prava
– Dosta primera iz prakse
– Razgovore sa iskusnim advokatima
– Rad na study work
– Priliku da se baviš pravom i testiraš svoja teorijska znanja i pravničku logiku na realnim primerima iz prakse
– Priliku da vidiš kako izgleda jedna radnja nedelja u advokatskoj kancelariji
– Druženje i nova poznantstva.

Course information
When? 12-16.07.2021. godine
Where? Beograd, prostorije Advokatske kancelarijeVuković i partneri
Any special requirements? Letnja škola namenjena je studentima treće i četvrte godine Pravnog fakulteta

How to apply? Complete the application form , snimi kratak video zašto želiš da pohađaš Letnju školu i pošalji na e-mail career@vp.rs do 30.06.2021. 2022.
Download the application form HERE.

Instrukcije za video: maksimalno trajanje video snimka je 3 minuta a u videu treba da odgovoriš na sledeća pitanja:
– Šta očekuješ od Letnje škole?
– Koji ti je omiljeni predmet na fakultetu do sada i zašto?
– Dopuni rečenicu: Ja sam_________, zato što ____________.

See you at the Summer School of Commercial Law!!